A LOVI NG TRIBUTE JANUARY, 2020
Padre José Contran 1941-2019
There are certain people who embody the Spirit of God's love in a palpable way. When near them, we know we are in the presence of something not quite of this world. If fortunate, we might encounter one or two of these individuals in our lifetimes. Padre José Contran was one of these rare individuals.
Those of us who met Padre José felt this Spirit in the depths of our hearts. We felt its truth in that most intimate of places buried within us that tells each of us that we are unique and beloved and yet connected to all other living beings. It did not matter whether we were Catholic, Protestant, of another faith-tradition, or did not believe in God or any higher power. It did not matter whether we were strong in our faith or struggling to find our way. To encounter Padre José was to recognize the deepest of truths, the deepest of loves, that words cannot contain. A truth and a mysterious love that seemed to surround and abide in this humble priest.
Padre said that 'God had allowed him to live among the abandoned and incapacitated.' Allowed him. For Padre, it was not a sacrifice.
It was a gift to live among those this world had rejected, discounted, forgotten. A gift, because among them, Padre could live most intimately and closely with Jesus, his good shepherd. We all have seen Padre throughout the years gently touch the face of a severely deformed child and kiss his forehead or watched Padre glide along with a little one in tow, the child holding onto his Franciscan cord as her wheelchair trailed behind him. In their faces, Padre saw Jesus. And in Padre, we saw Jesus.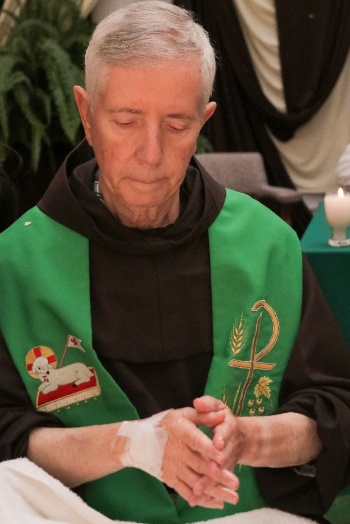 Born in 1941 in Padua, Italy, Padre José was a child of war. He would speak of the sacrifices his mother had made, how she would go without food so that he could eat. This experience did not motivate him to isolate himself from, or rise above, poverty. Rather, he saw it as a confirmation of his calling to live a life of compassion with others who suffered. Ordained as a Franciscan priest at 26, Padre lived most of his life in Central America. Saint Oscar Romero was his archbishop in El Salvador in the 1970's. In the 1980's during the Guatemalan Civil War, Padre José regularly celebrated mass in remote communities, never abandoning his flock even while placing himself at great personal risk. Rarely he spoke of it, but there were many times when he was required to identify the bodies of his martyred brothers. And, still he served during those dark days.
In 1994, Padre José became the Director of Las Obras Sociales del Santo Hermano Pedro*, the home and hospital for the incapacitated, abandoned, and poor of Guatemala in desperate need of medical care. Those of us who knew Padre José all have stories of when Padre had either an audacious vision for growth or the Obras was in some crisis and Padre's faith moved mountains. Each time, Padre would marvel at the most recent miracle and he could then welcome more children, or provide more healthcare, beyond any of our expectations.
On December 27, this extraordinary man, who did not seek to be extraordinary in any way, returned home to his beloved Jesus. Just days before his death, Padre José looked into the distance and prayed, "Lord, my good shepherd, please open the door. Guide me, lead me home." Padre's body was frail, but there was a deep peace in his face. He was not praying to a distant God. He was talking to, looking into, the face of Jesus. Just as he had lived, so Padre José died. Following his Good Shepherd. Following him home. Padre's last wish was to be buried, not in the large Franciscan church which holds the remains of Saint Hermano Pedro Betancourt, but rather in the back corner of the Antigua town cemetery. The out-of-the-way corner where his abandoned and incapacitated children who had lived and died at the Obras throughout the years are buried.
It is difficult to imagine the Obras, Antigua, even Guatemala, without this gentle, kind soul to welcome and guide us.
Yet, if there ever were a soul who shall remain very present to us to encourage and help us in this work, to hold us in our fears and our joys, it surely shall be the soul of Padre José.

Now, we shall follow in his footsteps and honor him through this work. To seek to bring humble kindness in Jesus' name to everything we do, as Padre José always did. May we serve strengthened by his witness and guided by the love of God that shone so clearly through Padre José.

Padre José always would say in the face of every loss, every challenge, "Animo!" Be encouraged! He would do so with a kind smile that somehow made us know that all would be well. So I will end with Padre's voice echoing in my ear, saying to you all "Animo!" and thanking God for the Love that shall never fail or ever end. The Love that Padre José embodied so very well. And, thanking God for the blessing of Padre José Contran, our good shepherd.


Article contributed by
Rev. Linda McCarty
President and CEO, Faith In Practice
Faith In Practice and Obras have been serving together for more than 25 years.
Make a tax deductible donation

DONATE
Hermano Pedro Social Works Foundation, Inc.
PO Box 631
Mount Vernon, NY 10551-0631
Please Note: We limit our communications to holiday and quarterly newsletters. Obras Sociales del Santo Hermano Pedro and Hermano Pedro Social Works Foundation respect the privacy of those included in our mailing list and those who visit our website. The data and information we collect are used only to further our mission. It is our policy to collect and store only personal information that is knowingly provided to us. All personal information you provide is stored on secure servers and we take all reasonable technical and organizational precautions to prevent loss or misuse of your personal information. Our donor list is not for sale; your name and mailing information will not be sold or given to other persons or organizations.